Wine Tasting in France's Loire Valley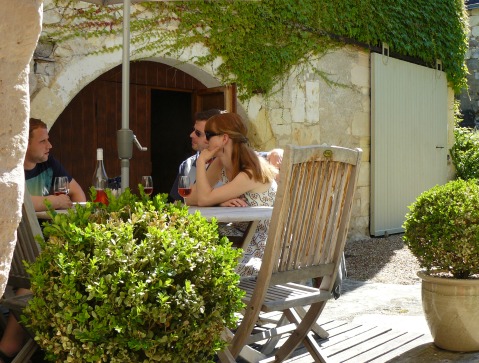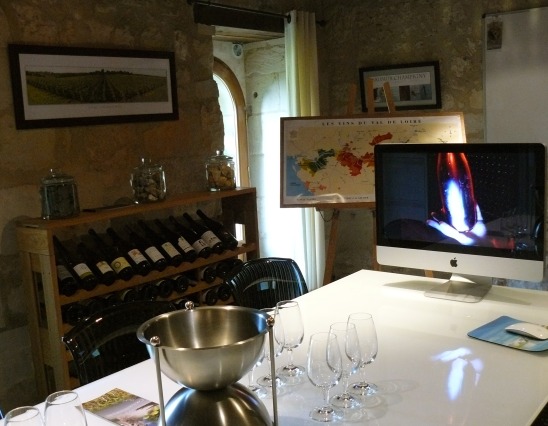 I recently had the wonderful invitation to go to the Loire Valley and enjoy a wine tasting day with Cathy and Nigel Henton of Le Tasting Room. I had heard about Cathy and Nigel from two different people – all raving about how terrific their day was – so I was most certainly intrigued and also had high expectations. So, off I went with my husband, Gary, to the Loire Valley for a day of wine tasting. And all I can say is that Le Tasting Room absolutely hits it out of the park with this experience!
Our day with Cathy and Nigel was so entirely focused on the the pleasure of not only drinking amazing wine, but truly learning about it and understanding it – from root to glass – that I found myself in a small slice of heaven. Cathy hosts the morning wine tasting in a well designed tasting room in their very charming and quaint 16th century home. Cathy has that rare gift of being an expert in wine with the ability to communicate her knowledge in a way that is engaging, intriguing and at times jaw dropping to learn such interesting facts about what it really takes to make a great bottle of wine.
I have done so many wine tastings over the years that it is difficult to find one that stands out in exception above the rest. Let's be honest, how many times can you put your nose in a wine glass and revel in the bouquet? What is so great here is to learn the production side of that glass of wine. We learned about everything from the fact that most of the vines in France are grafted onto American roots due to the Phylloxera devastation of 1862, to the fact that these amazing vines are self-pollinating. Seriously – who knew??
After working our way through tasting six incredible wines that morning we had a bite of lunch, which was excellent by the way. Everything from the food to the wine to the easy conversation at the table was just great. It was honestly just a true pleasure to be in the company of Cathy and Nigel in their home.
The morning went by too quickly and after lunch Cathy and Nigel took us to tour a 15th century chateau that grows and produces its own wine. What an enchanting place this is to wander through imagining centuries past and the people who have walked through the halls. I loved seeing the reception hall in this chateau where you could see people had scratched their declarations of love – or simply their names – on the walls over the years. It is incredible to imagine who they were and what they celebrating that day in 1701, which was the earliest date I could find on the wall.
After touring this incredible chateau (the chapel dates from 1435 and is replicated in the Cité de l'Architecture du Patrimoine in Paris) we walked among the vines with Nigel. The incredible knowledge and talent Cathy has to explain all things wine during the tasting is the exact same gift Nigel has to show and explain all we learned about that morning: pruning, budburst, soil quality. I have to admit I have not spent much time thinking about the physical aspects of wine making…all the days in the hot sun, the people harvesting still mostly by hand, the stress of the producer when the weather does not cooperate. All of these forgotten elements that I have never given attention were vivid to me as I enjoyed tasting the wines produced from the vines we had just walked through.
There is something profound about walking amongst the vines having a bit more understanding about the mystery they have held for centuries. To touch them and have an appreciation for how hard wine makers have to work to produce this beautiful nectar that we all enjoy so much, but rarely take the time to think about. It was an incredible day and a true privilege learn so much. Before we left to head back to the train station I strolled back out to the vines took a quiet moment to feel the life that comes from them, and to truly appreciate the amazing amount of hard work it takes to put all of a wine grower's passion into a bottle.